Assassin's Creed: Origins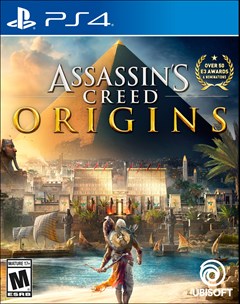 NOTE: Bonus pre-order mission is included with purchase, but not with rental of this title.
This sweeping action-RPG takes you to ancient Egypt and the very beginning of the Assassin's Brotherhood. In a land of dark myths and deadly secrets, you'll fight in a war for the future. You'll sail the Nile, discover the secrets of the pyramids, and battle the deadly factions that control a forgotten world. Your journey will take you to all corners of ancient Egypt, where you'll meet unforgettable characters from all walks of life - including pharaohs and beggars. Assassin's Creed: Origins' deep progression mechanics mean you can build the perfect assassin for your play style. You'll choose from tons of unique and deadly weapons, uncover rare artifacts in dark catacombs, and fight deadly bosses that will test your skills and courage.
Details
GF Rating
8.2
&nbsp out of 10 (202 Ratings)
Rating
Blood and Gore, Drug Reference, Intense Violence, Nudity, Strong Language, Use of Alcohol, Sexual Content
Specifications
Modes
Story, Full Mission Single-Player
Audio/Video
Surround Sound, In-Game Dolby Digital