Call of Duty: Advanced Warfare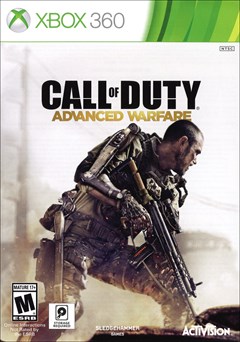 NOTE: This is a two-disc game, but it only counts as one disc against your rental plan. Minimum USB 2.0 Flash Drive (formatted for Xbox) or Xbox 360 Hard Drive with 4 GB free space required for play. Hard drive sold separately for Xbox 360 4GB, and original X360 Arcade, core console.

As the standard in first-person military shooters, this latest installment in the Call of Duty series takes you to the battlefields of the future. You'll equip yourself with an arsenal of exotic weaponry and save the world from a terrorist threat. Far from the out-there sci-fi settings so common in gaming, Advanced Warfare's future is well researched and realistic. Instead of the body armor soldiers wear now, you'll climb into combat exoskeletons capable of boost jumps, cloaking, extra speed, strength, and endurance, and even a grappling hook. All this technology changes the nature of fighting in COD. The new weapons behave differently than previous guns, and the HUD offers never-before-seen levels of tactical knowledge to every man on the battlefield. Not everything has changed, though - COD's tight-as-a-drum controls and realistic graphics are represented in spades.
Screenshots
Details
GF Rating
7.5
&nbsp out of 10 (1004 Ratings)
Rating
Blood and Gore, Drug Reference, Intense Violence, Strong Language
Specifications
Audio/Video
In-Game Dolby Digital, HDTV 720p, HDTV 1080p, HDTV 1080i
Online Features
Online Multiplayer, Voice, Friends, Content Download, Teams, Spectator Mode, Leaderboards, Xbox LIVE Family Settings, Achievements, Online Co-op, Online Team Deathmatch
Modes
MultiPlayer Co-Op, Campaign, Multiplayer