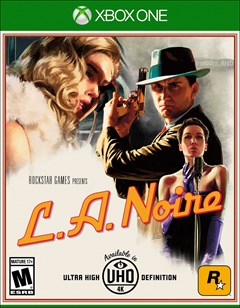 Solving the mystery is more about mind than muscle in this detective saga where you don't just uncover the evidence - you have to decide how to use it. Enter the hard-boiled world of 1940s Los Angeles, a world where Hollywood was golden, hats were fedoras, and chin music was played by fist meeting jaw. Track a serial killer in an investigation where finding the next clue hinges on your ability to decide if people are lying or telling the truth. While the story may be more about your smarts than your shot, you will still carry some iron. But thinking about bullets won't save your skin when the heat is on. Now in high definition, L.A. Noire for the Xbox One includes all previous DLC along with additional features, such as new camera angles and enhanced lighting.
Details
GF Rating
9.0
&nbsp out of 10 (10 Ratings)
Rating
Titles rated "Mature (M)" may be suitable for ages 17 and older. They may include more intense violence or language than products rated "Teen" as well as mature sexual themes.