Marvel vs Capcom: Infinite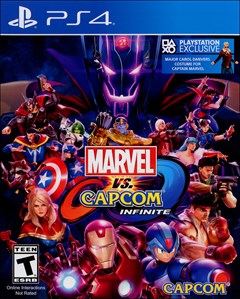 NOTE: Code required to access Major Carol Danvers Costume is included with purchase, but not with rental of this title.
Legendary characters from the Capcom and Marvel universes clash together in tag-team combat in this amazing fighting game. In Story Mode, supervillain Ultron Sigma has two Infinity Stones in his possession. The hybrid monster is bent on infecting all living things, and only the bravest heroes can stop him from destroying their newly combined world. Marvel vs Capcom: Infinite lets you assemble tag-teams from a roster of universally loved characters like Captain America, Iron Man, Ryu, Rocket Raccoon, Chun-Li, and Mega Man X. Whether you play Story Mode, single-player Arcade, Training, or Mission Mode, the gameplay is precise and perfect, with tight controls and steady frame rates. Newcomers can take advantage of the game's accessibility, and fighting-game veterans will be blown away by the variety of tactics, teams, and techniques.
Screenshots
Details
GF Rating
4.8
&nbsp out of 10 (104 Ratings)
Rating
Mild Blood, Mild Language, Partial Nudity, Suggestive Themes, Violence, Use of Alcohol