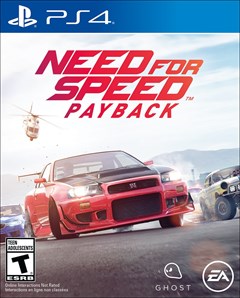 This action-racing game takes you deep inside a stylish underworld of criminals, risk-takers, and unbelievable cars. Tyler, Mac, and Jess are a crew of danger-junkies bound together by their thirst for vengeance against The House, a crooked cartel that rules Fortune Valley's casinos. Each driver must compete in high-stakes races, missions, and challenges to earn respect and a spot in the ultimate race to take down The House for good. But beware - the odds are against you and The House always wins. You can fully customize your car for performance and looks, lead the cops on edge-of-your-seat chases, and compete in epic races through canyons, deserts, mountains, and the city. From ridiculous heists to deadly car battles, Need for Speed Payback is an adrenaline-soaked joyride.
Details
GF Rating
6.2
&nbsp out of 10 (47 Ratings)
Publisher
Electronic Arts
Rating
Titles rated "Teen (T)" may be suitable for ages 13 and older, and may contain violent content, mild, or strong language, and/or suggestive themes.