Pillars of Eternity: Complete Edition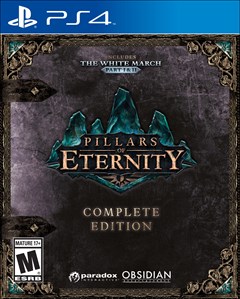 Play this epic role-playing game and immerse yourself in a complex fantasy universe. With its unforgettable characters, rich story, visceral real-time combat, and fully developed game world, Pillars of Eternity has everything RPG fans love. You'll lead a band of adventurers on a quest for glory and riches that takes you from cities to forests to the depths of dark dungeons. The choices you make affect the story's outcome, and your characters can be built from the ground up to reflect your playstyle. With six races and 11 classes to choose from, you can create any kind of hero you want. You can play as a powerful mage who commands arcane magic, a buff tank who smashes people in the face with a battle-axe, or anything in between. The Complete Edition of Pillars of Eternity includes all DLC and expansions in a single package.
No reviews yet. Be the first to review.
Review
Details
GF Rating
6.8
&nbsp out of 10 (11 Ratings)
Rating
Blood, Sexual Themes, Strong Language, Violence