South Park: The Fractured But Whole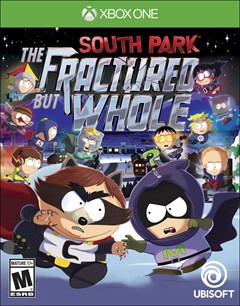 NOTE: Code required to access South Park: The Stick of Truth is included with purchase, but not with rental of this title.
The kids from South Park are back with another hilarious RPG adventure. With voices and writing by South Park creators Trey Parker and Matt Stone, The Fractured But Whole features twice as much content as South Park: The Stick of Truth. This time, it's all about superheroes. You'll create your own custom crime-fighter - complete with a costume, special powers, and backstory - and then descend into the underbelly of South Park to defeat the evil power menacing the town. You can enlist up to 12 members of Coon and Friends, including Mysterion, The Human Kite, and the Coon himself. There are new combat and crafting systems and more of that signature South Park humor you love.
Screenshots
Details
GF Rating
8.1
&nbsp out of 10 (178 Ratings)
Rating
Blood and Gore, Mature Humor, Nudity, Strong Language, Use of Drugs, Violence, Sexual Content
Specifications
Audio/Video
Surround Sound, In-Game Dolby Digital