The Walking Dead - The Telltale Series: A New Frontier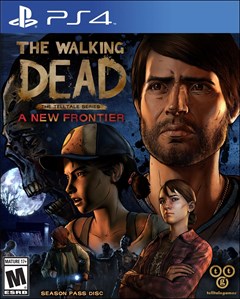 NOTE: Episode 1 is included on disc. Episodes 2 - 5 will become available to download from PSN as they release. Disc must be in tray to play any episode.
The third season of Telltale Games' critically acclaimed series will take you back into the world of The Walking Dead. The story is split into five parts in this episodic adventure game. You'll follow the story of Javier, a young man determined to protect what's left of his family after the zombie outbreak. Clementine makes an appearance as your mysterious companion in this new story line. Every decision you make will affect the world around you, so choose your actions carefully - or they could be your last. Sometimes, you may be forced to choose between survival and morality. You'll have to decide for yourself whether you can trust other living people when resources are scarce and danger lurks everywhere.
Details
GF Rating
7.7
&nbsp out of 10 (77 Ratings)
Rating
Blood and Gore, Intense Violence, Strong Language, Use of Drugs