Tom Clancy's Splinter Cell: Blacklist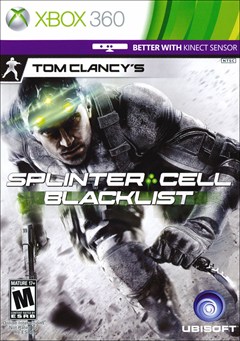 NOTE: This is a two disc game, but it only counts as one disc against your rental plan. Game installation may require up to 7GB of memory and a mandatory installation of the disc 2 HD texture pack.

America is on notice. A radical group called The Engineers has issued a blacklist: a series of deadly attacks that will be carried out unless America meets its demands. Sam Fisher has been given one rule in this sweeping Splinter Cell saga: do whatever it takes to stop the attacks. Operate without limits in three play styles. Panthers strike quickly, then slip into the the shadows. Assault players rely on instincts and firepower. Ghosts go totally undetected. Use new black ops gadgets, including the Sticky Noisemaker, which can distract enemies or lure them, and the Tri-Rotor, a dart-shooting scout drone. Use the Strategic Mission Interface for co-op play, go team vs. team in Spies vs. Mercs, and more.
Screenshots
Details
GF Rating
8.2
&nbsp out of 10 (1758 Ratings)
Rating
Blood and Gore, Drug Reference, Intense Violence, Strong Language
Specifications
Audio/Video
In-Game Dolby Digital, HDTV 720p, HDTV 1080p, HDTV 1080i
Online Features
Teams, Leaderboards, Achievements, Online Multiplayer, Voice, Friends, Xbox LIVE Family Settings, Online Co-op
Modes
MultiPlayer Co-Op, Full Mission Single-Player, Full Mission Co-Op, Campaign, Multiplayer
Kinect Features
Kinect Sensor Optional, Players 1, Activity Level: Sitting