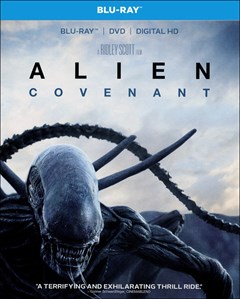 The Alien series has set the standard for sci-fi horror since 1979, and Covenant exceeds its reputation. A return to the grinding horror of the original Alien film, this sequel to Prometheus begins aboard the Covenant, a spaceship full of colonists. An accident leads to the discovery of a habitable planet, so the colonists head there. When they arrive, they meet a survivor of the Prometheus expedition. David has been living on the planet for a decade. They also meet the aliens - monstrous creatures with acid for blood and an endless appetite for murder. Trapped on a strange new world and overwhelmed by a powerful and intelligent adversary, the colonists wage a desperate war for survival.
Details
GF Rating
6.7
&nbsp out of 10 (46 Ratings)
Publisher
Fox Home Entertainment
Rating
Language, Sci-Fi Violence, Some Sexuality/Nudity, Bloody Images
Specifications
Special Features
Audio commentary by Ridley Scott
Deleted and extended scenes
Master class: Ridley Scott
Production gallery
David's illustrations
inWorld Featurettes: Advent and Phobos
And more!
Subtitles
Spanish, French, English SDH