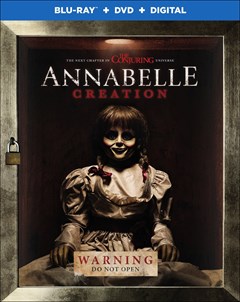 The most terrifying doll in movie history returns in a chilling sequel. An origin story of the haunted plaything, Annabelle: Creation is crammed with atmosphere, suspense, and scares. It's a classic horror setup - a group of orphans move into an isolated mansion after their orphanage closes. The couple that owns the mansion seems nice enough at first, but eventually the helpless girls discover a much darker side to the house. They also discover a certain haunted doll. Annabelle: Creation separates itself from other horror genre flicks by director David F. Sandberg's uncommon visual sense, eye for careful details, and deep knowledge of the genre. This is a rare sequel that is actually scarier than the original.
No reviews yet. Be the first to review.
Review
Details
GF Rating
5.9
&nbsp out of 10 (7 Ratings)
Publisher
New Line Home Entertainment
Rating
Horror Violence, Terror
Specifications
Special Features
The Conjuring universe
Horror shorts: attic panic and coffer
Deleted scenes featurette
Director's commentary
And more!
Subtitles
French, Spanish, English SDH