Assassin's Creed: The Movie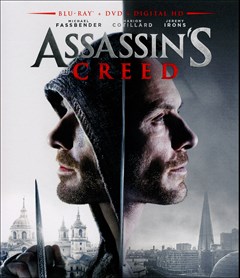 The blockbuster video-game series comes to the silver screen in this action flick. Callum Lynch is on a strange journey - cutting-edge technology has made it possible for him to experience his ancestor's memories. He learns that he is a descendant in a long line of assassins. The Assassin Brotherhood has been locked in a deadly war with the Templar Order for centuries, and all of history revolves around their secret conflict. To counter this threat, Lynch embodies one of his ancestors, Aguilar, an assassin in 15th-century Spain. The movie whips between two timelines as Aguilar battles the Templars in the past, while Lynch's life is at risk in the present. With the fate of humanity riding on his shoulders, Lynch fights a desperate war in both the past and present.
Details
GF Rating
6.3
&nbsp out of 10 (65 Ratings)
Publisher
Fox Home Entertainment
Rating
Brief Strong Language, Intense Sequences of Violence and Action, Thematic Elements
Specifications
Special Features
Take the Pledge: Behind the Scenes of Assassin's Creed - Five-Part Documentary
Conversations with Justin Kurzel
Deleted Scenes Conversation with Justin Kurzel & Christopher Tellefsen
Gallery & More!
Subtitles
French, Spanish, English SDH