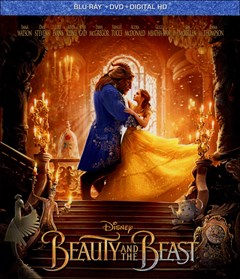 Disney revisits a timeless fairy tale with this live-action musical. Belle is a bookish yet brave girl. When a terrible monster captures her father, she agrees to take his place as a prisoner. Once she's trapped inside Beast's gilded palace, enchanted household items conspire to create a love match between Belle and her captor. Only true love can break the spell that keeps Beast in his animal form. The film's perfectly cast leads (Emma Watson and Dan Stevens), hilarious sidekicks, and larger-than-life aesthetics would be enough to make a great film. But throw in a ton of memorable production numbers and you have an unforgettable and magical movie in the enduring Disney tradition.
Details
GF Rating
8.4
&nbsp out of 10 (28 Ratings)
Publisher
Walt Disney Home Video
Rating
Partial Nudity, Sensuality, Some Fantasy Violence
Specifications
Special Features
Enchanted table read
A beauty of a tale
The women behind Beauty and the Beast
From song to screen: making the musical sequences
Making a moment with Celine Dion
"Beauty and the Beast" music video & making the music video
Extended song: "Days in the Sun"
Deleted scenes
Song selection
And more!
Subtitles
French, Spanish, English SDH