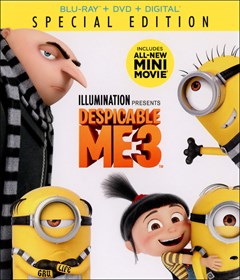 Former evil-mastermind Gru and his hilarious, trouble-making minions are back in this charming animated adventure. After being fired from the Anti-Villain League for failing an important mission, Gru considers returning to his criminal past. He also meets his long-lost twin brother, Dru. The twins are anything but identical. Dru is handsome, rich, and charismatic - but Gru is his exact opposite. A friendship develops between them, and the brothers decide to do a heist together. Balthazar Bratt was a child star in the 1980s, and he's planning his revenge by stealing the largest diamond on Earth. Can Dru and Gru team up long enough to stop Bratt's evil scheme and save the world?
Details
GF Rating
6.7
&nbsp out of 10 (6 Ratings)
Publisher
Universal Home Video
Rating
Action, Rude Humor
Specifications
Special Features
?Mini-movie: The Secret Life of Kyle
Minion moments
Deleted scenes
Character profiles and more!
Subtitles
French, Spanish, English SDH