Fantastic Beasts and Where to Find Them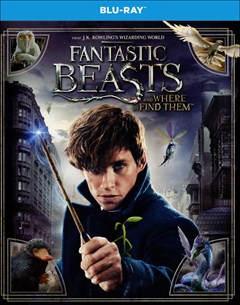 This Harry Potter spin-off movie is straight magic. Instead of Hogwarts, Fantastic Beasts is set in New York City. And instead of Harry, the hero is Newt Scamander. He is a "Magizoologist," a wizard who studies and protects supernatural creatures. With an assortment of beasts stored in a leather suitcase - much bigger on the inside than the outside, of course - Scamander arrives in America, but everything goes haywire. In the U.S., wizards are terrified of being discovered by No-Majs (American Muggles). But it's hard to keep magic a secret when a rampaging Niffler, Erumpent, and other creatures run wild in New York. In the tradition of the Harry Potter movies, this good-hearted story provides genuine wonder to its audience without skimping on the darkness that gives it weight.
No reviews yet. Be the first to review.
Review
Details
GF Rating
8.3
&nbsp out of 10 (40 Ratings)
Publisher
Warner Home Video
Rating
Some Fantasy Action Violence
Specifications
Special Features
Over An Hour of Expansive, Multipart Featurettes
Before Harry Potter: A New Era of Magic Begins!
Deleted Scenes
Subtitles
French, Spanish, English SDH