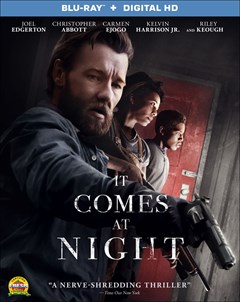 A family is trapped in their home by a global catastrophe in this tense, claustrophobic horror movie. The family lives in orderly isolation while barricaded against a mysterious, deadly terror outside. But one day they find an intruder. The man says he and his family are fellow survivors seeking refuge, but can they be trusted? As two anxious families learn more about each other, distrust grows into paranoia, and something evil is awakened. Whatever lurks beyond the walls may be deadly, but the true horror comes from deep inside the characters themselves. A horror movie that shatters the rules of the genre, It Comes at Night will both scare you and make you think.
Details
GF Rating
3.8
&nbsp out of 10 (8 Ratings)
Rating
Disturbing Images, Language, Violence
Specifications
Special Features
Human nature: creating It Comes at Night
Audio commentary with writer-director Trey Edward Shults and actor Kelvin Harrison Jr.