Kingsman: The Golden Circle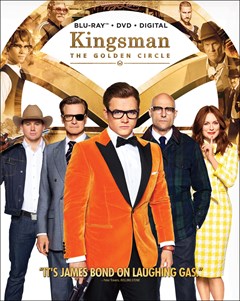 The Kingsman group is back for another round of campy, violent action in this fast-paced spy flick. This time, Eggsy and his crew of suave secret agents travel to Kentucky and meet Statesman, a group of American operatives with a very different style than their European counterparts. These contrasting heroes must find a way to work together to defeat Poppy, an international drug dealer. Poppy has an audacious plan to emerge from hiding and sell her poisonous products all over the world, and only our heroes can stop her. The cast includes Channing Tatum, Colin Firth, Halle Berry, and Julianne Moore, and the action is unforgettable. The Golden Circle is a winner for fans of big-budget spy movies.
No reviews yet. Be the first to review.
Review
Details
GF Rating
7.0
&nbsp out of 10 (14 Ratings)
Publisher
Fox Home Entertainment
Rating
Drug Content, Language Throughout, Sequences of Strong Violence, Some Sexual Material
Specifications
Special Features
?Kingsman: Inside the Golden Circle
Black Cab Chaos: Anatomy of a Killer Chase
Kingsman Archives
Subtitles
French, Spanish, English SDH