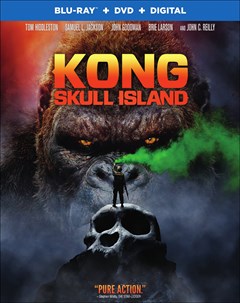 The biggest, baddest monkey in movie history is back, and this time, he's on his home turf! In 1973, a team of scientists and soldiers travels to distant Skull Island. Their research mission is to map the uncharted territory, but it goes horribly wrong when their meddling awakens primal creatures from beneath the earth. Cut off from civilization, they desperately try to survive on an island full of monsters and prehistoric danger. The all-star cast includes Tom Hiddleston, Samuel L. Jackson, Brie Larson, John C. Reilly, and John Goodman - but the real star is King Kong. The mighty gorilla has never looked better as he battles a giant octopus, a squadron of Huey helicopters, and other terrifying creatures in amped-up monster fights.
Details
GF Rating
7.2
&nbsp out of 10 (44 Ratings)
Publisher
Warner Home Video
Rating
Brief Strong Language, Intense Sequences of Sci-Fi Violence and Action
Specifications
Special Features
Creating a king: a 2-part exploration of the rebirth and re-creation of an iconic monster
Monarch files 2.0 (companion archive): dive deep into the organization and monsterverse mythology
Tom Hiddleston: The Intrepid Traveler: join the actor on a tour of the film's breathtaking locations
Deleted scenes
Director's commentary
And more!
Subtitles
French, Spanish, English SDH