Pirates of the Caribbean: Dead Men Tell No Tales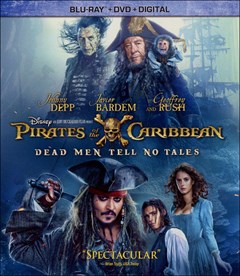 Johnny Depp returns as perpetually tipsy pirate Jack Sparrow for more swashbuckling adventure in the fifth Pirates of the Caribbean movie. This time, Sparrow is facing a terrifying new foe: Captain Salazar, a zombie pirate-hunter with an undead crew determined to kill every buccaneer on the high seas. The cruel Salazar always leaves one victim of his raids alive to spread fear to other pirates. After all, "dead men tell no tales." To break a curse, Sparrow and his fellow rogues set out to recover the Trident of Poseidon - and to steal everything that isn't nailed down along the way. This blockbuster truly has it all: high-voltage stars, edge-of-your-seat action sequences, undead sharks, and pirates, of course! There's even a Beatle - Paul McCartney shows up to play Jack Sparrow's uncle.
No reviews yet. Be the first to review.
Review
Details
GF Rating
8.1
&nbsp out of 10 (18 Ratings)
Publisher
Walt Disney Home Video
Rating
Some Suggestive Content, Sequences of Adventure Violence
Specifications
Director
Joachim Ronning and Espen Sandberg
Special Features
Dead men tell more tales: the making of a new adventure
Bloopers of the caribbean
Deleted scenes
And more!
Subtitles
French, Spanish, English SDH