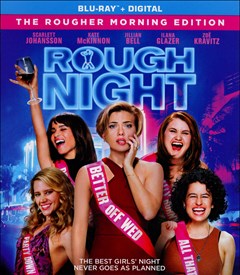 This dark comedy is directed by Lucia Aniello, who is known for her work on Comedy Central's Broad City. A group of friends who are celebrating an upcoming wedding have one heck of a wild night. Jess is the soon-to-be-married center of the bachelorette party. She's a politician settling down with a dependable, nice guy. But her college friends want to give her one last bash, so they all head down to Miami for an outrageous party. When their poor choices result in some serious consequences, the women try to find a way out of their predicament. A winning cast, smart and raunchy writing, and an I-can't-believe-that-happened plot add up to an amazing comedy.
Details
GF Rating
3.5
&nbsp out of 10 (6 Ratings)
Publisher
Sony Pictures Home Entertainment
Rating
Drug Use, Language Throughout, Crude Sexual Content, Brief Bloody Images
Specifications
Special Features
Gag reel
Deleted scenes
Naughty neighbor diaries
Improv-O-rama
Scandalous sing along
Killer cast featurette
The dynamic duo: Lucia and Paul
And more!
Subtitles
English, Spanish, Portuguese, Italian, English SDH, French
Languages
Italian, Spanish, French, Portuguese, English