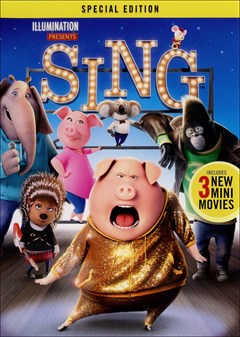 Animals of the world burst into song in this delightful animated musical from Illumination Entertainment. Featuring more than 60 songs ranging from Queen to Taylor Swift, Sing is guaranteed to get your toes tapping. When Buster Moon the koala decides to hold a singing competition, contestants come from all over to participate. As different as they may be, all of them share the dream of stardom. Rosita (Reese Witherspoon) is a stay-at-home pig raising 25 piglets and Johnny (Taron Egerton) is an ape caught between singing and a life of crime. Seth MacFarlane plays Mike, a white mouse with Sinatra-like vocals, and Scarlett Johansson plays Ash, a punk-rock porcupine. And finally, there's Meena - an elephant who can blow the roof off any building, but is too shy to sing on stage. Sing's concert finale is truly magical and will have even the audience singing along.
No reviews yet. Be the first to review.
Review
Details
GF Rating
6.3
&nbsp out of 10 (7 Ratings)
Publisher
Universal Home Video
Rating
Some Rude Humor, Mild Peril
Specifications
Special Features
3 New Mini-Movies
"Don't You Worry 'Bout a Thing" Music Video Starring Tori Kelly
The Best of Gunter
Character Profiles and More!
Subtitles
French, Spanish, English SDH