Teen Titans: The Judas Contract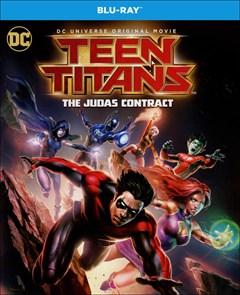 This animated feature brings one of the most legendary story lines from the Teen Titan comic books to life. Starfire, Beast Boy, Raven, Blue Beetle, Robin, and Nightwing face two of their most hated and feared enemies: Brother Blood and Deathstroke! But the supervillains aren't the only danger. Mysterious new Teen Titan member Terra is changing the dynamics of the squad, and she may not be what she seems. In this twisted tale, the Teen Titans must defeat their own fears to have any hope of overcoming the pair of evildoers out to destroy the world. Packed with suspense, action, and that patented Teen Titan charm, The Judas Contract will please fans of the series and newcomers alike.
No reviews yet. Be the first to review.
Review
Details
GF Rating
7.7
&nbsp out of 10 (10 Ratings)
Publisher
Warner Home Video
Rating
Language, Some Violence, Suggestive Material
Specifications
Special Features
Titanic Minds: Reuniting Wolfman and Perez
Villain Rising: Deathstroke
2 Bonus Cartoons
A Sneak Peek at DC Universe's Next Animated Movie: Batman and Harley Quinn
Subtitles
French, Spanish, English SDH