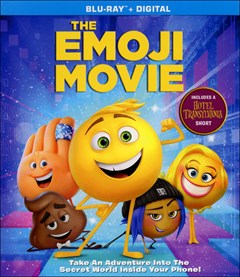 This lighthearted animated comedy takes place in the hidden world of your cell phone. All emojis live in the city of Textopolis, where they wait to be chosen and sent in a text message. But Emojis are supposed to have a single facial expression, whether that's a smiley face or a poo. Gene is a little different. He can't keep the same look on his face, so he's useless as an Emoji. With his friends Hi-5 and notorious hacker Jailbreak, Gene travels through his phone's many apps to reach the Cloud, where Jailbreaker can reprogram him to display only one expression. The virtual crew soon uncovers a danger to the entire emoji way of life. Full of familiar apps and silly characters, The Emoji Movie is great entertainment for the whole family.
Details
GF Rating
5.7
&nbsp out of 10 (12 Ratings)
Publisher
Sony Pictures Home Entertainment
Specifications
Special Features
Sweet app-etite
Gimme a hand!
"Good Vibrations" dance along & lyric video
Express yourself: meet the cast
Girls can code!
Jailbreak decoded: the untold story
How to draw gene and poop
And more!
Subtitles
Vietnamese, Malay, English SDH, Indonesian, French, English, Spanish, Chinese, Korean, Thai, Cantonese
Languages
French, Thai, Korean, Spanish, Chinese, English