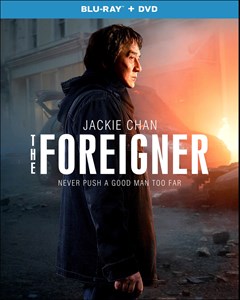 Action hero Jackie Chan plays against type in this tense revenge thriller. The Foreigner upends the traditional action-movie trope of "white guy beats up everyone in an Asian country" by putting Chan's character between two warring Northern European factions. Chan plays Quan Ngoc Minh, a quiet London businessman. But Quan has a secret, violent past, and when his teenage daughter is killed in a terrorist attack, it comes roaring into the present. The culprits, who call themselves "the Authentic IRA," are a shadowy terrorist group endangering the peace between Britain and Ireland. On the wrong side of both politicians and terrorists, Quan sets out on a grim mission with revenge on his mind and nothing left to lose.

No reviews yet. Be the first to review.
Review
Details
GF Rating
7.0
&nbsp out of 10 (3 Ratings)
Rating
Language, Some Sexual Material, Violence
Specifications
Special Features
?The Making of The Foreigner
Interviews with Director Martin Campbell, Jackie Chan and Pierce Brosnan
And More!
Subtitles
Spanish, Chinese, English SDH