Transformers: The Last Knight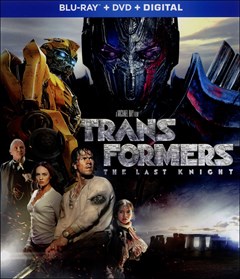 The transforming robots are back for another larger-than-life adventure. Think huge action sequences, likable actors, and a bullet-fast pace. Things are dark when our adventure begins with Transformer leader Optimus Prime heading back to his home planet. A terrible new enemy sees his absence as an invitation to threaten the world. Evil alien Quintessa wants to decimate Earth and totally destroy both the robots and humanity. The world's fate is left in the hands of Cade Yeager, Bumblebee, and their friends. As they race toward the final confrontation, they learn that the Transformers relationship with humans goes back all the way to the days of King Arthur! If you're down for some giant robot battles, this is the movie for you.
Details
GF Rating
5.8
&nbsp out of 10 (37 Ratings)
Publisher
Paramount Home Video
Rating
Language, Violence, Some Innuendo, Intense Sequences of Sci-Fi Action
Specifications
Special Features
Blu-ray special features: merging mythologies - the secret transformers history
Climbing the ranks - military training
The royal treatment: Transformers in the UK
Alien landscape: cybertron
And more!
Languages
English, Spanish, French, Portuguese
Subtitles
Portuguese, French, English SDH, Spanish