War for the Planet of the Apes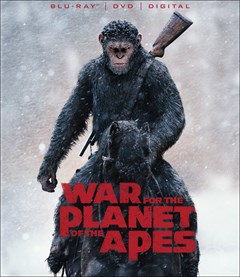 It's all-out war between humans and intelligent apes in this blockbuster sequel. Caesar and his band of apes are living in the jungle, content to live separate from men - until some humans raid their encampment. Led by The Colonel (Woody Harrelson), the human soldiers kill many apes and teach Caesar a new human trait: the thirst for vengeance. He leads his ape army in a war against the humans, hoping to personally exact revenge upon The Colonel. It's an epic battle for the future of mankind, the future of ape-kind, and the entire planet. With its insane action and intelligent, haunting story, War for the Planet of the Apes is an action movie you won't soon forget.
Details
GF Rating
7.9
&nbsp out of 10 (29 Ratings)
Publisher
Fox Home Entertainment
Rating
Thematic Elements, Some Disturbing Images, Sequences of Sci-Fi Action and Violence
Specifications
Special Features
Audio commentary by director Matt Reeves
Deleted scenes with optional audio commentary by director Matt Reeves
Apes: the meaning of it all
And more!
Subtitles
French, Spanish, English SDH